The 1st LOVESTRONG Outreach Retreat Team–Oct 2018, Sts. Peter and Paul Church, New Braunfels, TX
The LOVESTRONG Executive Committee was appointed by our founding pastor, Father Carlos Velázquez, in 2017 as an important delegation for the growth, oversight, and continued development of the LOVESTRONG Marriage Ministry within our community and throughout surrounding communities.
Mission Statement of the LOVESTRONG Executive Committee
The mission of the LOVESTRONG Executive Committee is to promote and encourage marriage and family life values in our community by offering LOVESTRONG Retreat weekends and a support community for married couples throughout Texas and beyond.
Vision Statement of the LOVESTRONG Executive Committee
The LOVESTRONG Executive Committee serves to ensure that the vision of the LOVESTRONG Marriage Ministry continues to strengthen the love and faith between each and every married man and woman participating in this Ministry throughout the area. The LOVESTRONG Executive Committee is dedicated to supporting LOVESTRONG Steering Committees from participating church communities, and is steadfast in providing all married couples the opportunity to learn about God's vision of marriage, family life, and spirituality, thereby leading couples to a clearer understanding of their relationship with each other and with God.
The LOVESTRONG Executive Committee serves to market and manage LOVESTRONG "Outreach" Retreats to new parishes and churches.
Below are the founding and current couples of the LOVESTRONG Executive Committee:
FOUNDING COUPLE
Tom and Didi Kolkebeck
Tom and Didi were married in June 1996 in San Antonio, TX and they celebrate their 22nd wedding anniversary this year. They have been Holy Spirit Catholic Church parishioners since 2011. Both Didi and Tom have been active in the ACTS ministry for many years. Tom is the youngest of eight children, Didi, the oldest of four. Tom's and Didi's parents have been shining examples of Christian sacramental marriage, having each been married over 50 years. Tom and Didi are the proud parents of three beautiful children – Daniela (20), Elizabeth (18), and Mateo (14). We are honored and blessed to be a part of this very special Ministry!
Lee and Letty Spain
Lee and Letty celebrated the sacrament of marriage on June 27, 1998 at St. Paul Catholic Church in San Antonio. They have been active parishioners at Holy Spirit since 2006. They are the proud parents of two adult boys, Matt and Sam, and the proud grandparents to four beautiful grandchildren. Lee and Letty's focus is on ensuring their relationship with Christ is solid and the foundation of their marriage. They focus each day on renewing their vows by exhibiting Christ's love to each other and the community they serve. They base their love for God, each other, their family, and community on Romans 12:12, "Rejoice in hope, endure in affliction, persevere in prayer." They believe strongly that faith in God and His Church will help them endure any challenges they face, and allow them to be blessed by God in all things.
Jacob and Audrey Flach
Jacob and Audrey met when they were teenagers in the late 1980's and were married about 20 years later on June 20, 2008. They were both raised in Catholic households and are blessed with loving parents that have been married for over 40 and 50 years. Jacob is a Wealth Manager at Merrill Lynch and Audrey a project consultant for a pharmaceutical company. Their son Noah is at freshman at UTSA and daughter Kate attends Holy Spirit Catholic school. Audrey is an active member with the Holy Spirit Altar Society and room mom for Kate's class. Jacob has been involved with ACTS retreats since 2012 and is active with basiC (brothers and sisters in Christ) ministries. They are excited to be part of such a fantastic ministry and look forward to strengthening their own marriage while helping others do the same.
FOUNDING PASTOR
Father Carlos B. Velazquez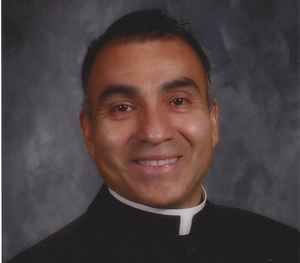 Father Carlos B. Velazquez was born in Chicago, Illinois and raised in San Antonio, Texas. He was ordained to the priesthood on June 8, 1990 for the Archdiocese of San Antonio. Fr. Carlos has served throughout the Archdiocese in various capacities including as Parochial Vicar, in Gonzales, Texas, Vocation Director for the Archdiocese, Pastor of St. John Berchmans Catholic Church, The Church and School of the Holy Spirit, presently as Pastor at Sts. Peter & Paul Catholic Church, New Braunfels, TX. He enjoys preparing couples for the Sacrament of Holy Matrimony and is involved in many religious and civic organizations throughout the Archdiocese. Fr. Carlos appreciates the value of and the need for promoting the Sacrament of Holy Matrimony and is totally supportive of the LOVESTRONG Marriage Ministry Program.